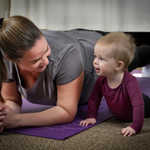 Mother's day shouldn't be the only day when moms are taken care of. It may sound obvious, but new moms often put themselves and their body last on their overwhelming list of things and people to care for. The last year as a new mom has given me a new perspective and appreciation of the endless facets of motherhood.
And For New (or not-so-new) Moms To Seek Help!
Pregnancy and childbirth are a wonderful phenomenon but also a significant stress on one's body. Our bodies have a fantastic capacity to adapt. I also know firsthand that not only it takes time, but also guiding in the right direction and sometimes a little bit of hands-on care.
Did you know that your physiotherapist can help you optimize your postpartum recovery, get back to being physically active and prevent long term issues? Examples of what we can help with:
· Low back/sacroiliac/pubic symphysis/hip pain and the common new-mom mid/upper back pain: thorough assessment and treatment
· Diastasis recti (separation of the abdominal muscles): tailored exercise program, education and tips for your daily life
· Tips and guidance for safe and successful return to impact activities (like running), strength training, etc.
· Tips to optimize body mechanics for lifting and carrying a growing baby
· Tips to optimize nursing/feeding posture to minimize mid back pain and neck tension
Investing time in your self-care will go a long way. Give moms in your entourage a little nudge to take care of themselves and their body. :) Happy Mother's day to all moms, those yearning to be mothers, moms of 4 legged kids, mothers who have lost children and to all the loving moms or mother figures. A lot of love goes out to you!
Virginie and the team at Spine & Sports